We Are
DEDICATED
Kourage Health is dedicated to transforming lives and elevating the standards of patient care. By conducting research and continually advancing our understanding of the benefits of medical exercise, we are able to provide a world-renowned program with incredible results.
JOIN PROGRAM
REFER A PATIENT
Voices
The truest reflection of our accomplishments, as patients share their individual stories of hope and healing.
To Go the Extra Mile - Janie & Matt Clapp - Parkinson's Disease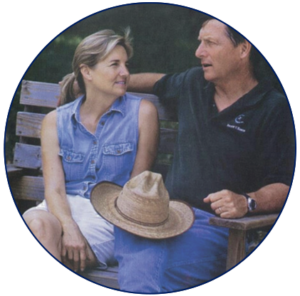 Janie & Matt Clapp

Parkinson's Disease
"He was bigger than life. He was our John Wayne. I sure miss that guy." Those words from Janie Clapp describe her late husband Matt, a dedicated cattle rancher, the founder of Rockin' C Ranch Christian youth camp, a big man with a big heart for kids. He passed away in 2020 at the age of 69 from early onset Parkinson's Disease. At the time of his diagnosis in 2007, Janie and Matt were already familiar with Kourage Health and Dr. Kimmel's prescription of movement as medicine. "We personally knew Gary Kimmel," explained Janie, who was part of Rockin' C Ranch as well as the owner of Janie's Cakes in Tyler. "He said, 'okay Matt, you've always been active and a fit guy, but you've got to keep your core strong. So, let's get you in there and get going.'" Based on Dr. Kimmel's recommendation, Matt was at the Kourage Health center at First Christian Church in Tyler five days a week.
"And it worked. It really made a difference in Matt's life," said Janie. "It kept him moving. He was extremely mobile, and a lot of people would comment that he didn't have the typical Parkinson's slouch. He was much straighter and stronger." She noted that Matt looked forward to his daily Kourage Health sessions. "He was excited to go. He was always looking forward to it – to be up there, to see everybody, to work out. He might have on his cowboy hat working out on the elliptical. At Kourage Health, they'd see him coming and say, 'here he is, here comes blue eyes.'"
She added that Kourage Health was vital from a mental standpoint. "It was huge, it kept Matt happy and upbeat," she said. "Anybody who has an illness has issues with depression. I think you need to have exercise to help with your mental health." Janie added that she, too, was part of Kourage Health, noting, "I'd exercise along with Matt, right beside him, and that was great for me as well. I also could benefit from that time and exercise." To others facing the serious illness of a spouse, Janie advises, "Stay strong. It's hopefully a long journey, and you want to keep them with you as long as you can. With that in mind, join Kourage Health because it will help your journey. It really will help you keep the person you love with you."
"Go the extra mile" was one of Matt's favorite mottos at camp, a saying that served him well. He had a whole host of motivational quotes – mottos that he would paint on boards and put within the woods, so that he (and the Rockin' C camp kids) could read them again and again as they walked throughout the ranch. "He said, 'I want to stay as strong as I can for as long as I can,' and Kourage Health helped us achieve that goal," added Janie. "When he did die, Dr. George Plotkin (his neurologist) said, 'He had five more years than I thought he'd ever have. He made it a lot longer.' And we attribute that to Kourage Health."
"Matt's legacy is in the thousands of young people he impacted," Janie remarked. "He did such a good job inspiring people to be the very best they could. Helping others — doing the right thing — going the extra mile."
To See the Possibilities - Terry Ramm - Multiple Sclerosis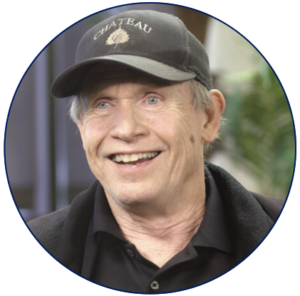 Terry Ramm

When Terry Ramm was diagnosed with multiple sclerosis in 1982, he joined the approximately one million people in the United States who live with MS. This disease of the central nervous system disrupts the flow of information from the brain through the spinal cord to various parts of the body. According to Terry, finding Kourage Health in Tyler gave him an opportunity for hope, progress, and friendship. He said, "Kourage Health has improved my quality of life by making me move again and giving me hope for the future, for whatever time I have left. It's been really great." Terry recalled that his life had been going downhill in many ways, "When you are sitting at home with a sickness or illness, you start losing hope," Terry recalled. "But then again, when you start working out and just getting your body moving, you see there are possibilities where things can improve." Terry considers his Kourage Health experience to be a community of friends. "The exercise specialists encourage you," he said. "It's also really enjoyable to get to know the other participants because you see people pushing forward and trying to improve things in their lives." "Kourage Health has been very good as far as checking up on me whenever they're concerned about me," added Terry. "It's nice to know that they're almost like family in that way."
To Flourish in My Storm - Joe Sanchez - Inclusion Body Myositis (IBM)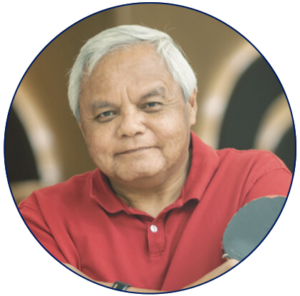 Joe Sanchez
Inclusion Body Myositis (IBM)
In 2013, Joe Sanchez, a manager with Home Depot, was diagnosed with Inclusion Body Myositis (IBM), a rare autoimmune muscle-wasting disease. At the time, he was told that any physical activity would only speed up the process. But Joe decided that he was not going down without a fight. "I'm going to walk myself back to mobility, with you or without you," he told the clinicians. So even though exercise wasn't recommended for those with IBM at the time, his neurologist wrote a prescription for physical therapy and leg braces. "The doctors were following what IBM medical advisory boards were saying all over the world – no exercise, no physical activity," he said.
After moving to Tyler in 2019, Joe visited First Christian Church's Christian Life Center due to his love for competitive table tennis. While there, he found a Kourage Health center, then another on the campus of The University of Texas at Tyler. "They had a different mindset," relayed Joe. The Kourage Health Exercise Specialists said, "Let's see what you're doing and what you can do."
"And my life changed from there on," explained Joe, who no longer relies on leg braces or a walker. "All of a sudden, I could get out of a chair easier, I could step over things, I could climb a flight of stairs. During my years working out with Kourage Health, I slowly became more and more mobile, slowly started doing things that people said 'you can't do that, you're not supposed to do that, you're not capable of doing that. It's not possible.'"
"Kourage Health has made me functional," added Joe. "It has given me the ability to do things with confidence. They got me to believe in myself. They got me willing to do things."
To help others with IBM, Joe had Kourage Health record one of his medical exercise sessions, which he then sent to the The Myositis Association's Medical Advisory Board. "They were so impressed they actually contacted Kourage Health and said, 'Hey, we like what you're doing – it's about being functional.' And so we wowed the Myositis Medical Board all over the world. From what I've been told, that video is being shared in Europe, being shared in Canada, being shared in Australia – it's a hit worldwide."
While there's no cure for myositis, because of Joe (and many other patients and clinicians), the conventional medical wisdom for IBM is changing to embrace medical exercise. He says, "For those of us in the early stages and phases, movement can slow down the process, it can help.
"Don't give up on hope – miracles happen every day," noted Joe. "You need to discover what you can do and stop listening to people telling you what you can't do. You've got to build an infrastructure and an environment around you that allows you to flourish in the storm. You've got to surround yourself with people who will help you do that."
"That's what Kourage Health does," he concluded. "It's given me a place to flourish in my storm."
To Do Everything I Can - Delores & Larry Schmiege - Pancreatic Cancer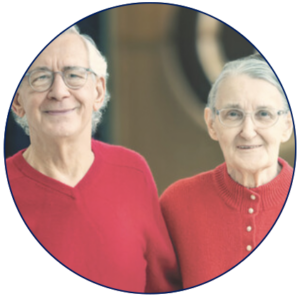 Delores & Larry Schmiege
"I may have cancer, but cancer doesn't have me!" That powerful saying well illustrates the journey of Delores Schmiege. Her experience began when a neighbor noticed that she was jaundiced. A quick trip to the doctor and an ultrasound brought the dire diagnosis of pancreatic cancer. But from the beginning, Delores was in charge.
"When Delores was first diagnosed with cancer, the doctor said, 'you will probably be dead in six months,'" recalled her husband, Larry. "To which she answered, 'No, I won't!' And she's still here."
Delores added that her Houston-area doctor "said it would be hard for me to get into MD Anderson – it would take a while. It seemed like he dismissed me." Her son, Dr. Lorenz Schmiege, a Tyler pathologist, soon convinced his parents to move to Tyler, based on his in-depth knowledge of the city's medical community.
"I started off with Dr. (Duane) Andrews because I had surgery first," remembers Delores, adding that Dr. Frank Ward was soon selected as her medical oncologist. Dr. Ward supplied Delores with a Kourage Health brochure and provided the needed physician referral. After recovery from her pancreatic cancer surgery, she started at Kourage Health on July 31, 2009, with Larry also joining as her caregiver.
"I've always believed in exercise, so getting involved in the Kourage Health program was not an issue for me. It wasn't a hard thing to do, where it is for some people that don't like to exercise," noted Delores. "I was glad to have the program, and – since we were new in town – it gave me an opportunity to meet more people. Of course, they were dealing with cancer, too, or other health issues."
"Oh, it is great," said Larry. "I had stayed in the hospital with Delores for a month, not getting enough exercise. So, by the time we started Kourage Health, I was already going downhill quite a bit, and the exercise was fantastic. Caregivers need exercise, too, because they have a lot of responsibility."
As a long-time believer in exercise as part of a healthy life, Delores and Larry were soon mainstays at the Kourage Health center at First Baptist Church in Tyler. When that center previously had a staffing shortage, they stepped up as volunteers so that it could remain open five days a week. Prior to the COVID-19 pandemic, they were on site almost every day. Larry noted that it was common to see people encouraging one another to exercise, to walk a little more, to work a little harder. He told Delores's story to a lot of people as they walked on the treadmill, in part to make them walk longer as they listened instead of watching the clock.
Delores cites Philippians 4:13 as her favorite Bible verse: "I can do all things through Christ who strengthens me."
"During my cancer journey, God was utmost in my health. I knew that no matter what, I could get through because of the strength He would give me," she says. "I had Kourage Health, and I had Larry's support, and I had my family's support, and God, of course, was right there beside me through it all. Now, more than 13 years since her cancer diagnosis, Delores is the same woman who said, 'No, I won't!,' when told that she might have six months to live. Larry concludes, 'She has never given up. She has never shown that she's afraid.'
"Well, he took on all the worry; I chose not to," says Delores. "I've tried to do everything I can while I still can… that's what I do."
To Stand on the Promises - Ellen & Glen Winegeart - Aneurysm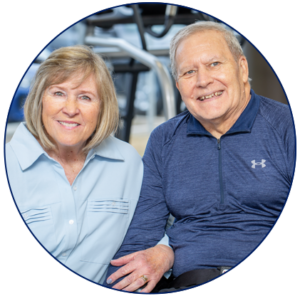 Ellen & Glen Winegeart
For Glen and Ellen Winegeart, life changed overnight. Glen, a pharmacist, had gone to work, as usual, one morning in April 2021 when a co-worker called Ellen to tell her he had fainted. The emergency room professionals soon found that an aneurysm had burst, as an artery wall in the brain expanded to the point of rupture.
"Our lives changed in a second," said Ellen. "Glen was in the ICU. I became the caregiver, taking over everything and making all decisions." Glen's journey was to be a long one. After surgery and recovery in the hospital, he continued with physical therapy until medical coverage reached its limit – even though Glen was still seriously disabled. As time passed, his condition worsened as his muscles constricted and atrophied, leaving him bedridden or in a wheelchair and with limited speech.
Throughout this trying time, the Winegearts were surrounded by a beautiful community of friends who provided encouragement and assistance. "A good friend called one day to say there's this organization in town where Glen might be a good candidate for help," recalled Ellen. That call led to a physician referral from his neurosurgeon and then to their initial visit at the Kourage Health center in Tyler.
"When we first met Glen, the prolonged physical inactivity had contracted his hamstrings so that his legs were essentially stuck in place," said G McLauchlin, clinical manager for Kourage Health. "We began medical exercise sessions three times a week, with core workouts in the wheelchair designed to slowly build the strength that would be needed to stand."
The comprehensive exercise sessions focused on everything from stretching tight leg muscles to building total body strength and improving balance. In October 2022, Glen stood with assistance from G and a wall–mounted ballet bar for the first time, to the reaction of both cheers and tears from his caregiving team.
"Glen has improved in every aspect: mentally, physically, emotionally," notes G, beaming with satisfaction. "He is motivated, with the goal to walk again, and Ellen has been there every step of the way." She added that Glen's strong faith community of family and friends, who help with daily exercise, has been essential, saying, "They have gone above and beyond, as has he."
Now smiling and talking, Glen looks forward to what he calls his 'G Buddy Time' of exercise therapy. As a husband, father, and grandfather, he's also looking forward to playing with his grandkids, dancing with his wife, and taking vacations again.
"The vows we made when we married were 'in sickness and in health,'" says Ellen. "There's a pact between Glen and I and the Lord. It's not a promise that can be broken – it's one we have to stand on."
"My job is to love him, take care of him, and be an advocate for him . . . because I can tell you that this medical journey is not an easy one," added Ellen. She also expressed gratitude to the Kourage Health donors, who make the program possible with no charge to patients. "It's hard for me to express the gratitude for them," she said. "If we didn't have the donors for this, we could not come."
Ellen now provides advice for others facing similar medical journeys: "Kourage Health is good because you know someone is waiting for you. You don't pass it up; you go. The accountability of having someone there for him matters. They're the ones that are going to get him better."
In January 2023, Glen walked – assisted only by parallel bars – for the first time since his Kourage Health program began. Then in March, he walked with the aid of a walker. With each accomplishment, he truly is standing on the promises of faith and hope for renewed life.
To Find Joy in the Journey - Mary Surber - Lymphoma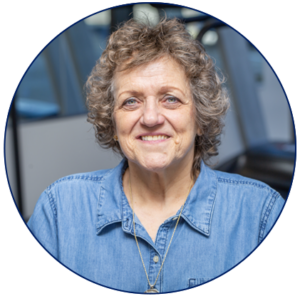 Mary Surber
Disabling headaches were the first indication that something was wrong with Mary Surber. After initial testing provided no answers, an emergency room MRI found the diagnosis: primary central nervous system lymphoma – a tumor in the brain. While the tumor couldn't be removed surgically, Mary eventually began chemotherapy and steroid treatment.
The setbacks were numerous: a highly serious pneumonia, a blood infection, and COVID-19 – all which depleted her strength and spirits. "My medical oncologist asked me if I would try Kourage Health," related Mary. Although immune system issues prevented her from going to a Kourage Health center, she decided to give the program a try via online Zoom sessions. "I started Zooming. It was the best decision I ever made," said Mary. "The Kourage Health classes helped me overall, physically and mentally."
Mary's physicians began discussion about a stem cell transplant, but she had to be healthy enough to go through that procedure. "Doing Zoom at my house was such an astronomical experience in my healing process," she noted. "They saved my life to where I could have the stem cell transplant."
Today Mary counts Jan. 7, 2022 – the date of her stem cell transplant – as her "new birthday." She says: "I'm just so thankful that I had the Kourage Health Exercise Specialists to call and hear them say, 'You can do it. You have the ability to do one tiny step at a time. . .and those little, tiny steps will get bigger and bigger and bigger.'"
Mary's message to our donors:
"I can't thank the donors enough for giving your time, your talents, your money – whatever you do for Kourage Health and for people like me. I cannot say how grateful I am and how humble I am that you would give to this program. But, gosh, please keep giving, not only for me, but for others that are in battles that they never thought they would have to face. Thank you, thank you, thank you."
Together, with your help, we will bring joy to the journey for countless others like Mary.
Share your story with us…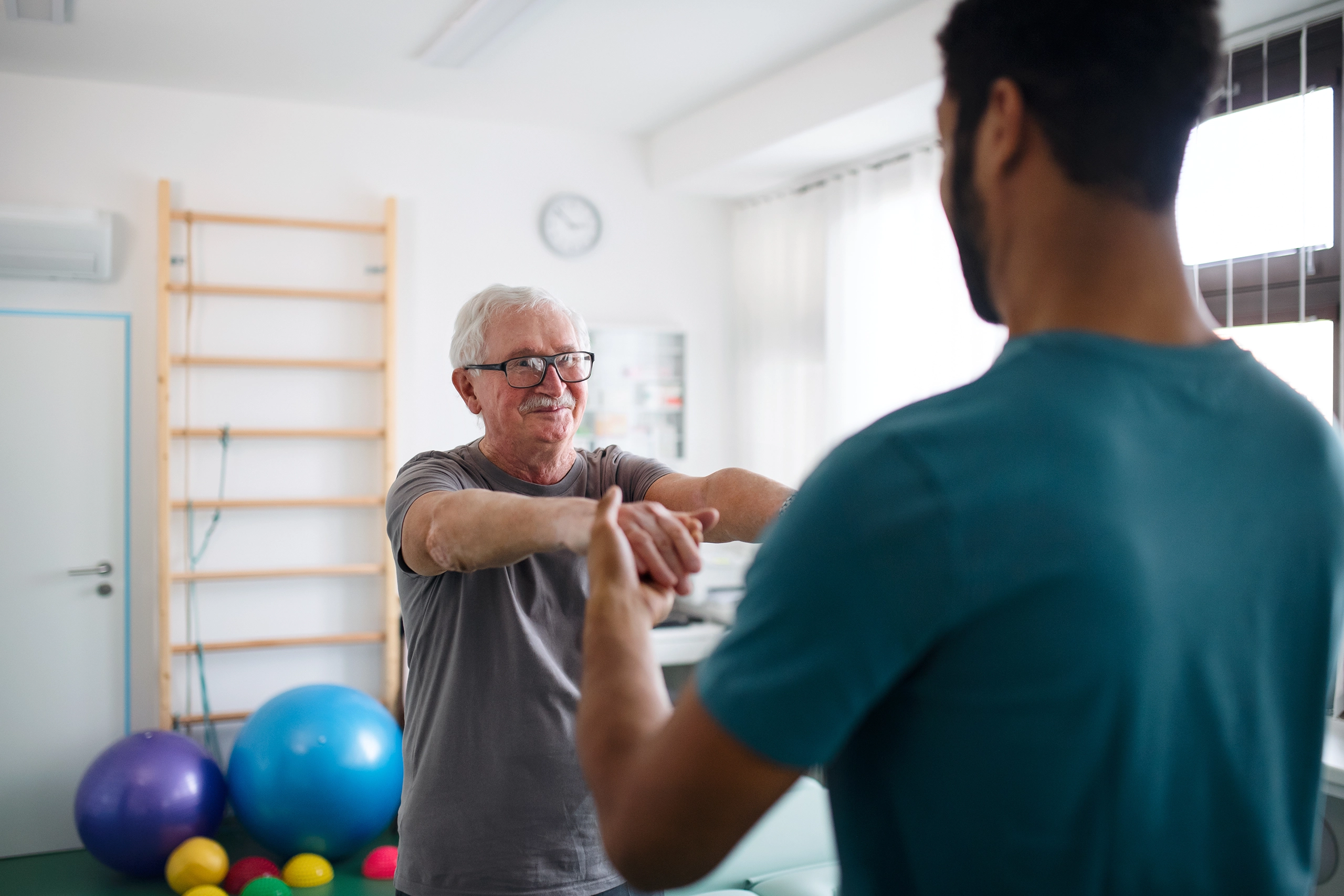 RESEARCH
At Kourage Health, we are passionate about exploring the latest scientific research and utilizing evidence-based medical exercise guidelines. Our unwavering commitment to research and innovation has led to significant advances in our understanding of the benefits of medical exercise for individuals with chronic illnesses. By dedicating our time and resources to researching the most effective ways to incorporate exercise into the treatment of chronic illnesses, we are able to provide our patients with personalized and comprehensive medical exercise plans. Our dedication to research is not only benefiting our patients but also advancing the medical community's understanding of the critical role that exercise plays in the management of chronic illnesses.